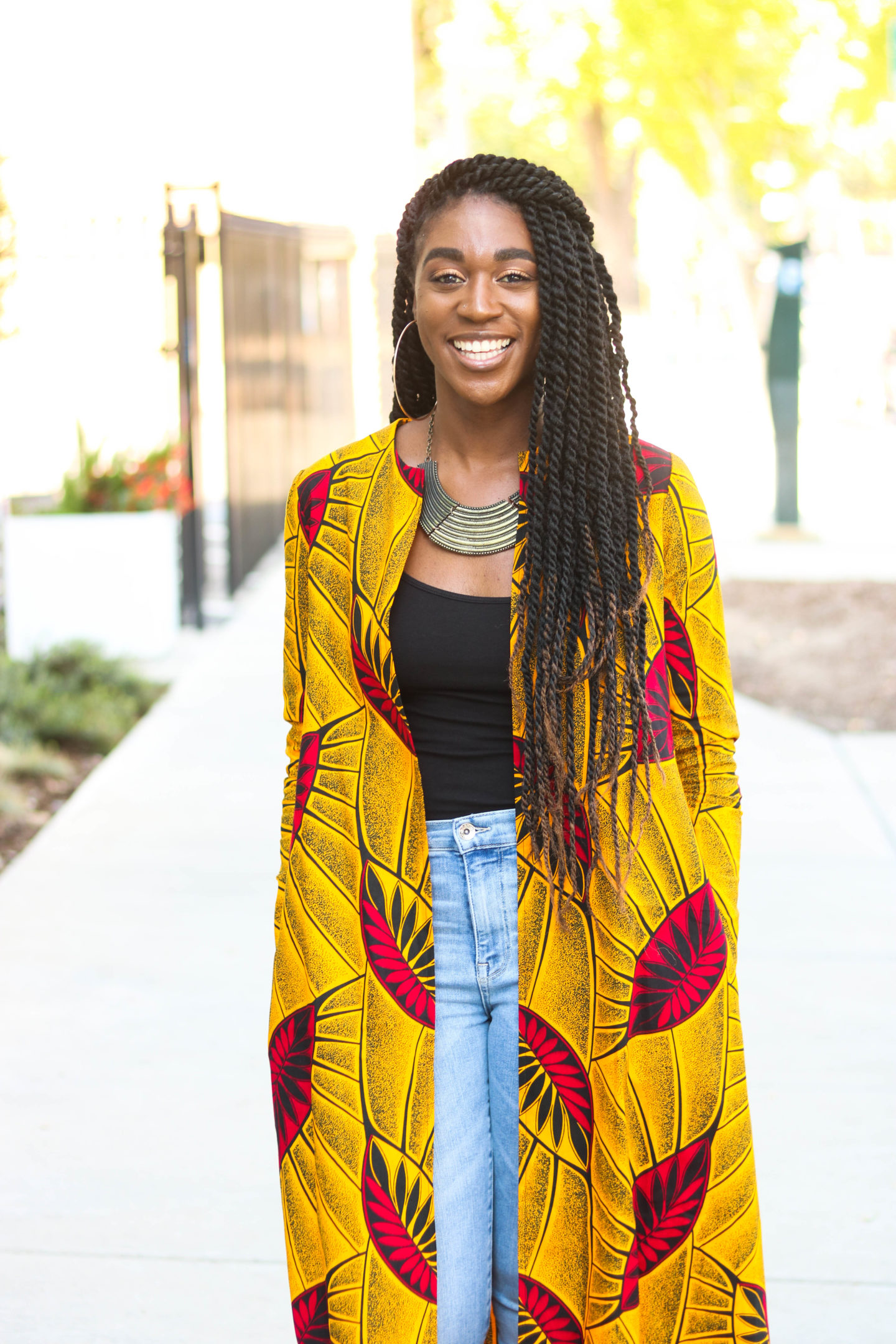 Hello Everyone! I have finally been able to get back into my sewing room and sew up a few pieces for the fall. I'm teaching 5th grade this year and lesson planning and grading has left me drained. I'm in my sixth week now so I'm settling into my routine. Last week I sewed up an easy duster. I'm in love with this duster and I plan to make another one with bell sleeves. I already have my fabric chosen. Check out the pattern review below.
How to Slay the Look
Duster: New Look Pattern 6514. Tutorial can be found here. 
Fabric: Ankara/African Print Fabric- House of Mami Wata
Jeans: H&M
Pattern Review
Pattern Description: Coat or vest with sleeve and length variations. I made View A.
Pattern Sizing: I cut the small.
Were the instructions easy to follow? Yes, they were very simple and easy to follow. For beginners who are visual learners, I suggest looking at YouTube videos for steps like understitching.
Did it look like the photo/drawing on the envelope once you were done with it? Yes, the length and neck line were accurate to the picture shown.
What did you particularly like or dislike about this pattern? I like the simplicity of the pattern. There are minimal pattern pieces which I absolutely love.
Fabric used: I used Ankara/African Print Fabric, this fabric is a 100% woven cotton.
Pattern alterations or any design changes you made: I did not add a trim to  the coat. I did add pockets. I can't have a long coat with no pockets. I used the line marked 'waistline' as a guide for where to start my pockets. After attaching the pockets I noticed that they were uneven after pinning the front and back together. I ended up adjusting the front pockets to line up with the back pockets. Moving forward I will make that adjustment before attaching the pockets to the front and back pieces.
Would you sew it again? Would you recommend it to others? Yes, I plan to make another one. Next time I'm going to use the sleeve style using view B. I definitely recommend this pattern. It's very simple and comes together quickly.