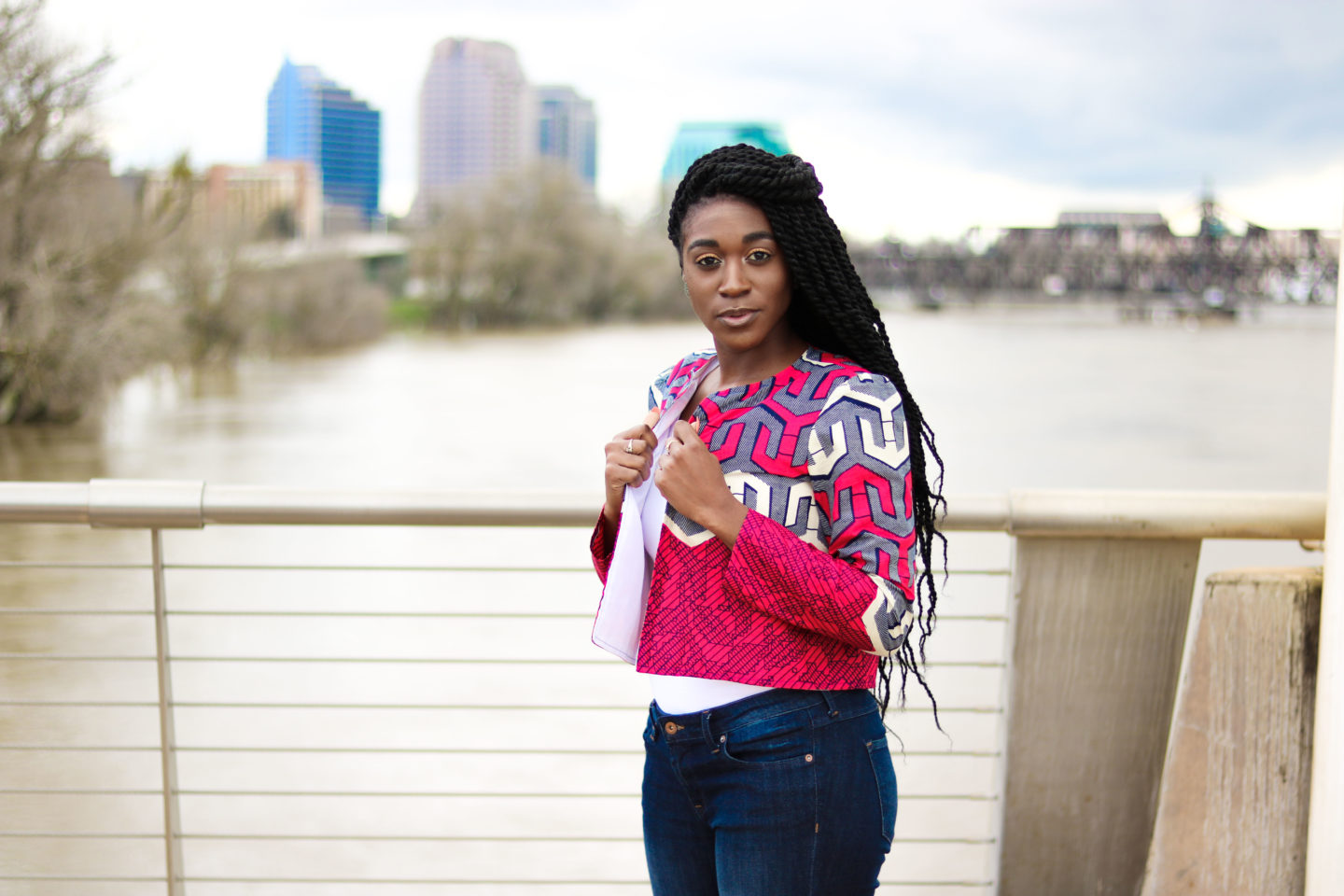 I've been on the hunt for a simple jacket pattern that would showcase the full print of my ankara without any seams interrupting the flow of the fabric. When I can across this pattern I knew I had to give it a try. I'm glad I did, I had no fuss sewing this jacket pattern. This is a perfect pattern for beginners, there were only three pattern pieces. Though the pattern did not call for a lining for the back, I lined it. See the full pattern review below. The fabric that I used was from my stash and it is no longer available, however any wax print fabric used will produce a beautiful jacket. Browse through some option here and here, try not to get yourself in trouble by adding too many to your cart.
Pattern Description: Butterick 6328, View A
Pattern Sizing: I cut the size 8
Did it look like the photo/drawing on the pattern envelope once you were done sewing with it? Yes
Were the instructions easy to follow? I didn't use them, but yes, as I read through them are easy to follow.
What did you particularly like or dislike about the pattern? I liked how simple it was to sew together.
Fabric Used: I used a wax print fabric
Pattern alterations or any design changes you made: I omitted the back neck facing and opted to fully line the back, which required me to have to shorten the back pattern piece.
Would you sew it again? Yes, I have a beautiful yellow and green kente print I plan to use for my next one.
Conclusions: If you're looking for a simple jacket to sew, this is the perfect project. Also, I didn't follow the recommended sizing on the pattern as the finished product would have been to large for the look I was trying to achieve. According to the pattern I should have cut the 14, but know that I have some knowledge of sewing patterns under my belt I've determined what size to cut to suit my body type. Trial and error helped me to gain this knowledge.
Have you subscribed to my blog yet? Subscribe today and become a VIP!